HT703_series
Product Introduction
"Home Care" digital electric moist heating pad. This moist heat pad combines many high-tech invention patents.It has gained multiple awards along with quality and safety certifications. There are 12 types of designs, each fitting the most common body parts that require heat therapy. Home Care's heating pads are the safest and best choice for heating pads.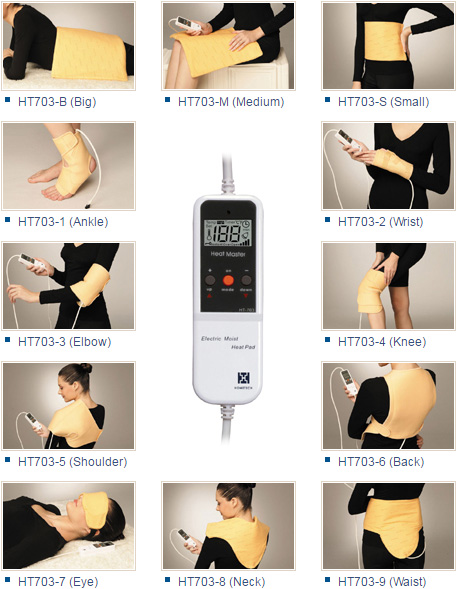 Features
Design Features

Electric blanket structure improvement No. 179173
Moist electric heating pad No. M240203
Moist heat type heating pad M339398
Electric heating element fixing device M246933
Wire connection device for heating pad 240232
Heating control device for connection of different heating pads I 283137
Electric heating film (Germany) No. 20224018448

Awards

Taiwan National Biotechnology and Medical Care Quality Award
The Symbol of Taiwan National Quality and Annual Pharmaceutical Technology
The 5th Annual Pharmaceutical Technology Research Award-Medical Device Copper Quality of Taiwan Department of Health

Safety Certificate

ISO13485 /QMS/TFDA( Ministry of Health and Welfare Medical Equipment Certificate)/60601-1/60601-1-2 EMC and Safety tests.

Structural Features

Advanced Features

Patented intelligent microcomputer control unit, including PID power control and Fuzzy inverter heating modes.
Patented heater module. High thermal conductivity, uniform temperature, power saving, compliant, far infrared and other functions
Patented hydrogel pads release moisture slowly and penetrate deeply, avoiding skin dryness and enhance comfort and heat.
Fixed temperature, instantaneous heat, high temperature, timing ,heating and power display, high temperature mode, overheat warning function
Comparing Table: :
Item
HT703 Heating Pad
Traditional Heating Pad
Patents

| | |
| --- | --- |
| | Modification of construction for heating pad, No. 179173 |

| | |
| --- | --- |
| | Moist Heating Pad, No. M240203 |

| | |
| --- | --- |
| | Electric components connecting device for heating pad, No. M246933 |

| | |
| --- | --- |
| | Wire connecting device, No. 240232 |

| | |
| --- | --- |
| | Heating Control System, No. I283137 |

| | |
| --- | --- |
| | Plastic heating substance, No. M256659 |

| | |
| --- | --- |
| | Design of heater (Germany), No. 202004018448.6 |

Unspecified
Awards

| | |
| --- | --- |
| | Symbol of National Quality |

| | |
| --- | --- |
| | National Biotechnology and Medical Care Quality Award |

| | |
| --- | --- |
| | Annual Pharmaceutical Technology Research Award - Medical Device Copper Prize |

Unspecified
Smart Identification Controller
Taiwan Patent no. I283137
PID and Fuzzy Control System, it can identify different positions and specifications of the heating pad to always keep in the most suitable heating control mode.
Can not change heating pad for professional therapy requirement.
Printed heater component design
Taiwan Patent no. 179173
Innovation soft printed heating pad is designed as many printed heater components with different specifications and parallel connection with power. This component can individually adjust heating power to make an average temperature.
Make electric wire series connection with power and fix wires inside the pad, with heat spot.
High efficient electric heating transmitter
Germany Patent no. 202004018448.6
Multi-layer printed heating transmission can transmit heat power quickly and uniformly to each point of the heating pad. Therefore, even the function of instant heating can provide user convenience and safety.
Use automatic heat releasing method of wires, time for warming up is long (around 15 mins)
Safety heating pad design
Taiwan Patent no. M256659
When uncontrollable power input accidentally happens (such as lightning strike or ultra high voltage), safety material heating pad will automatically be melted within very short time to protect user from burning.
Traditional wire needs much time and high temperature to be melted, it will cause burning.
Without electromagnetic radiation
Taiwan Patent no. I283137
Use Full Phase-Control for output power, it does not produce electromagnetic radiation during heating process for long-term use without harming health.
Use simple heating controller, low cost but not safe.
Supply moist heat persistently
Taiwan Patent no. M240203
100% cotton cover cloth is moisture-absorbing, and can provide about 15mins of moist-heat compress. On the other hand, our Hydro-gel pad can provide over 2 hours of moist-heat compress
Traditional moist-heat pad not covered by cotton cloth, and there is no hydro-gel pad for providing moisture.
Universal multi protecting design
Taiwan Patent no. I283137
There are 5 safekeeping designs: Fuse device, Microprocessor controller, 2 channels relay, Temp. Switch, and plastic heater which automatically melts if over heated, shutting the unit down.
Only apply fuse device and temp. switch
Electric components fixing device
Taiwan Patent no. 246933
Connection of wires and heater covered by PC box for avoiding open or broken circuits, and short or bad connection because of bending. Temp. sensor, temp. switch and other high sensitive components are all put inside to ensure accurate temp. control.
Without this design, it has broken circuits, short or bad connection because of bending and temp. controller does not work efficiently.
Connector of electric heating pad
Taiwan Patent no. 240232
Patented unique connector can be used for different size electric heating pads. It resists pull and drag to prolong the life of the plug and stabilize transmitting power and signal.
Without this design
Controller Specifications :
| | |
| --- | --- |
| Size | 145mm x 47mm x 24mm |
| Output | 0~400W |
| Minimum Scale | 1°C |
| Time setting | 01-99 minutes |
| Input power | AC 110V/230V |
| Temp. setting | room temp.~70°C |
| Maximum tolerance | ± 5°C |
Cautions :
Do not put hydro-gel pad into boiled water for heating.
Before use, please make sure the plug is correctly inserted.
Please wait for the temperature to return to normal if you feel the moist heating pad is over heated.
Please pay attention to the temperature of the heating pad if it is used by children or people with disabilities.
Do not apply heat therapy with high temperature for an extended period.
Using cold therapy, please put hydro-gel pad inside plastic bag and seal the bag, then put it into refrigerator. Do not put heating pad and controller into refrigerator.
Please unplug before changing electric heating pad. Make sure the connector is fixed well before you plug-in the unit.
Do not use accessories which are not enclosed with our product to avoid unnecessary danger.
With 1 year guarantee.
Certificated by EN60601-1-2 of 93/42/EEC Electromagnetic Testing and EN600601-1 Safety Testing. Do not use this product within one meter of shortwave equipment.
Keep product clean and dry and use from -10°C~40°C and 90% humidity.
Do not wash this product and heater, the cover cloth can be washed.
For speeding up heating efficiency, we suggest to use the thick coarse cloth to contact the skin when the hydro-gel pad is not used. You can use the thin/thick side when using the hydro-gel pad.