HT558_series
Product Introduction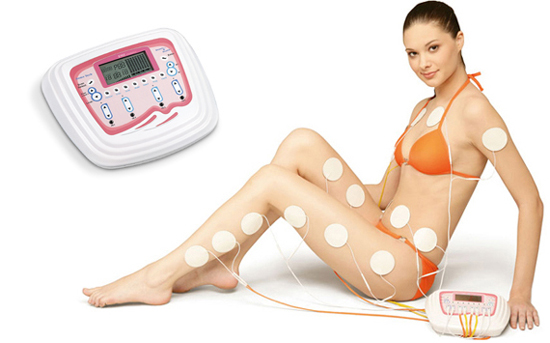 Features & Functions :
Large clear LCD which transmits function situation & operating condition
Offers 40 composed programs & 90 Function Modes with a possible 20790 different Combinations
Able to store 100 of the user's edited programs by using PC.
Special dynamic scan which helps muscles avoid getting used to the stimulation.
Can save 750 different therapy data results, date, time & patient's ID.
IT can memorize two patient's basic ID making it easier to distinguish the therapy results.
With four alarm settings to remind user of daily routines.
The unit can be connect to PC to translate all the saved data with RS 232 interface connector.
Includes suitable software for Windows 98, 2000 and XP.
Data can be transfered from unit to computer and results shown in an easy to read graph.
The computer will auto seperate each patients data by reading the user's ID from the unit.
Specifications :
Dimension
225 x 205 x 68;30 (mm)
Weight
850gm (battery included)
Power supply
230V 50Hz (110V AC 60Hz) to DC 9V adaptor or 1.5V(SUM-2)
battery 6 pcs and DC 3V (CR2025) 1 pcs for clock
Channel
4(4CH) independent isolated transformers
6(6CH) independent isolated transformers
8(8CH) independent isolated transformers
Input current
300mA(4CH); 400mA(6CH); 500mA(8CH)
DC 9V maximum
Output current
0~120mA P to P into 500Ω load
Timer
01~99 mins auto off and continuous
Function mode
"A1~9"~"J1~J9" total 90 program modes
On Time : 1...15 seconds
Off Time : 0...10 seconds (11 steps)
Scan Value : ±0~50% adjustable
Scan Type : 7 different types
Combination forms : 20790 different forms
Intensity Level : 20 steps
Pulse Width : 250uS
Rate : 2Hz~150Hz
Program mode
"P1~9" total 9 programs
Edit on unit
"U1~9" & "L1~L9" total 18 programs
Edit on PC

"00~99" total 100 programs
On Time : 1...19 seconds
Off Time : 0...19 seconds
Scan Value : ±0~50%
Step Cycle : 12
Scan Type : 7 different types
Intensity Level : 20 steps
Pulse Width : 250~500uS
Rate : 1~150Hz

Ramp up
10 seconds (intensity level from "0" to "20" )
LCD display
Timer count down/program mode/on time/
off time/rate/scan type/scan level/intensity level
Buzzer
4 different reminders
1.correct single beep
2.pay attention triple beep
3.mistake continue beep
4.reminder slow single beep
Electrical Stimulator
1
Stimulator Lead Wire
4
Self Adhering Electrode
8
Operating Manual
1
1.5V(SUM-2) Battery
6
Reusable Package
1
AC adaptor(Brand:SCN
Type: 48-090-0600)CE
1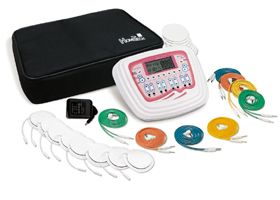 TENS electrode application areas :
Indicator and Controls :